Pastor David has been the Senior Pastor at Mount Carmel since September of 2009. He and his wife Theresa have 4 children and 5 grandchildren.
Doug Fulton was born and raised in South Florida. He gave his life to Christ as a high school student later felt a call to commit his life to serving in full-time ministry. Doug is married to Kelli and is the proud father of David, Lindsay and Jordan. Doug is a graduate of Palm Beach Atlantic University and Southwestern Baptist Theological Seminary. Outside of faith and family Doug enjoys sports and fast cars.
Mark has been the Student Pastor at Mount Carmel since June of 2019. He and his wife Leah have 3 boys. Mark's passion is discipling students to become more like Christ.
Pastor Chris has been the Children's Pastor at Mount Carmel since December of 2016. He and his wife Heather have 3 sons. They have lived in Cabot for over 20 years and love being involved in the community.
Lyndsay is married to her husband Michael, and they have two children, Charlie and Bracy. Lyndsay loves spending time with her family and seeing her children learn and grow, traveling with her family and being crafty when time allows. Lyndsay has been on staff at Mount Carmel since early 2016. She enjoys her job creating church graphics, and managing the church's website, app, and social media accounts.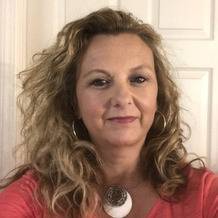 Senior Executive Ministry Assistant
Becky is married to Rodney Cossey. They have 2 children, Cole (26) and Julia (24). Becky has been the Pastor's Assistant at Mount Carmel since 2004. She enjoys spending time with her family and going to the beach whenever she can.
Thea has been the Administrator at Mount Carmel since 2015. She and her husband Joe have lived in Cabot for over 30 years. They have two children and three grandchildren. Thea and Joe also teach 4th grade Sunday School, and enjoy seeing the kids learn more about God and grow in their faith.
Executive Financial Assistant
Kelly has been on staff at Mount Carmel since March of 2013. She has three grown children. Kelly loves the beach and enjoying time outdoors. She has been involved in Women's Ministry and Children's Ministry for over 20 years, and is passionate about God's Word and helping others come to love God's Word too.
Receptionist / Ministry Assistant
Tabitha is married to James Baker, and together they are raising five amazing children. She is passionate about kids and helping them to know who they are in Christ, and how they can have a relationship with Him. She came on staff in early 2020 as an Administrative Assistant.